>ADC&Building Bridges Art Gallery
Bergamot Station, Los Angeles,  USA
Curator: Marisa Caichiolo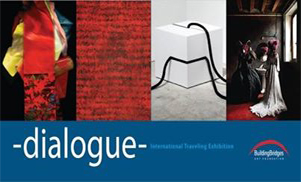 08.11.13 – 01.12.2013
Travelling ART Old City 2013

 

INTERNATIONAL PROJECT - OFAA

EXHIBITION CIUTAT VELLA OBERTA 2013,
Cátedra, Valencia, Spain

Curator: Victoria Cano


29.11.13 – 08.12.2013
Editionen 2013

>Neue Galerie Landshut
Verein für aktuelle Kunst im Gotischen Stadel
auf der Mühleninsel, Landshut
Kurator: Franz Schneider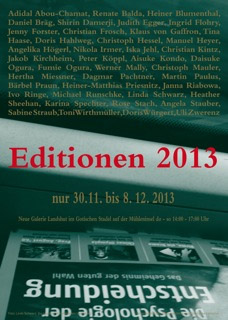 14.11.13 – 01.12.2013
Künstlerbücher

>galerieGEDOKmuc, München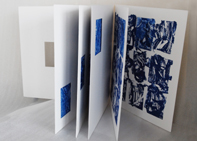 09.10.13 - 13.10.2013
Premio  Bice  Bugatti

>Bice Bugatti Club
>Video Interview Milano
Nova Milanese, Italy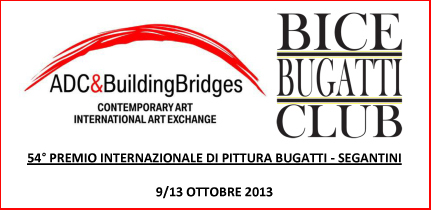 04.10.13 – 12.10.2013
Shanghai-Changzhou Art Festival in China

1st Changzhou International Art Workshop and Festival
The event was sponsored by the China Institute of Fine Arts and Changzhou Baosheng Park.

03.05.13- 30.09.2013 

 
- Dialogue x 4 -

>Exhibition in Mexicali
UABC´s Art Gallery  University, México
Curated: Building Bridges International Art Exchange, L.A., USA & Instituto de Cultura de Baja California, Centro Estatal de las Artes Ensenada, México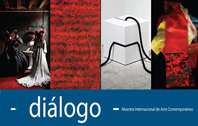 08.06.13 - 06.10.2013
NordArt 2013
   Kunstwerk Carslhütte, Büdelsdorf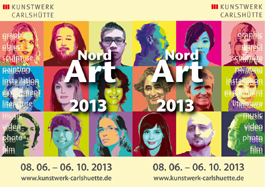 15.06.13 – 31.07.2013
3. Gräfelfinger Kunstpreis

>KunstZone Gräfelfing, Germany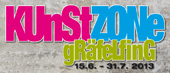 06.05.13 – 18.05.2013
Moscow International Spring Festival
 >"Women in Art of Contemporary World"
Exhibition in the Central House of Artists
in Moscow, Russia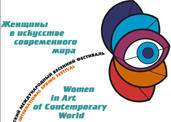 09.10.12 – 13.05.2013
1st Ecorea Jeonbuk Biennale Korea

International Artists from 31 Countries exhibit
at Sori Arts Center of Jeollabuk-do, Jeonju
and in the County office of Wanju-Gun, in the international Beokam Museum
>Jeonbuk Ecorea Biennale-Info

30.09 – 11.10.2012
The Color World - International Exhibition

3 Artists from France, USA and Germany
in the Ming Temple of People Art Museum
in Ningbo, China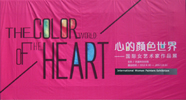 30.07 – 30.10.2012
- diálogo x6 -


INTERNATIONAL EXHIBITION &

Artist Residency



CEARTE - Center of the Arts Ensenada,
Mexico with artists from  Argentina, Chile,
Germany, France, Mexico and Puerto Rico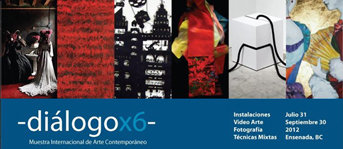 19.06 – 28.06.2012
From Germany to Vietnam - Art in Juxtaposition

3 german with 2 vietnam artists in the Exhibitionroom of the Art Museum HCMC, Vietnam.
Schirmherr:Deutsches Generalkonsulat HCM

>Pressetext-D         >Press-release-E
04.05. – 22.07.2012
SCHEIN und WIRKLICHKEIT, ILLUSION, LICHT, ORNAMENT und PRACHT
 Barocke Elemente in der aktuellen Kunst
>Kallmann Museum, Ismaning, Schloßstr.3b


Zum Anfang der Seite | TOP